Disney's "Frozen" on Broadway Now Has More Melanin!
If you've been alive for the last 5 years then there's a strong chance you've come in contact with a child who's pestered you with songs from the movie "Frozen". Whether you had to sit through endless off-key renditions of "Let It Go" or been asked "Do You Wanna Build a Smowman?" a million times on a sunny day, you are familiar with the film and you probably wanted it to go away.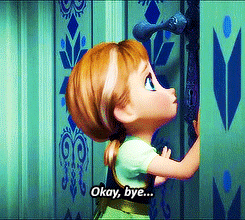 "Frozen" captivated young audiences, and some adults, to the point that preschool teachers everywhere literally shuddered the moment it was mentioned because, once one kid started talking about it, the control of the entire class was gone. I know because I was one of those teachers. Thank God I made it out safely.
To further grip the grown-ups "Frozen" has taken to the wonderful stages of Broadway with the ultimate twist. Half of the cast is Black! Aisha Jackson, who has been the understudy of Patti Murin, stepped up to the plate to fill the role of Anna, the younger sister to Queen Elsa, this past Thursday.
Via EW:
"Though the Broadway stage has been an area where Disney has seen more inclusive representations of its princesses (Toni Braxton played Belle in Beauty and the Beast, for instance), it still marked a major moment for diversity on stage. It was the first time Jackson has stepped in for Murin since Frozen opened on Broadway earlier this month.
Jackson's costar Jelani Alladin, who portrays Anna's love interest Kristoff, celebrated the moment with an Instagram post of a photo of the two of them in costume. "Tonight we made #blackhistory with @gifted2sing playing Princess Anna in Frozen! I am so blown away by the professionalism and talent of this company! Wow! #wakandaforever CONGRATS AISHA!!!!!! #frozen#blackbroadway #kristanna."
"A shorter version of Frozen is on stage at the Hyperion Theater at Disney's California Adventure and that has also proved a major space for inclusivity. Jackson's appearance still marks a victory for representation on Broadway where opportunities for people of color are still few and far between compared to those for their white counterparts."
Aisha Jackson is making her mark in a major way and congratulations are definitely in order!